EXPERIENCE THE

 

TRADITIONAL METHOD

 

OF
HOW TO HEAL AND PROTECT ONESELF
FROM A 

BACK PAIN
LEARN THE KALARIPAYATTU WAY TO HEALTHY LIFE IN A
 2 HOURS SESSION.
TIME : 
DATE : Coming soon
IN THIS TRANSFORMATIVE WORKSHOP, YOU WILL LEARN ABOUT:
The back exercises, 
covered in this session are a scientifically formulated movements and stances as inspired by wild animals. These kalari postures and stances are exercise that directly targets the spine, core, thighs, and overall strength flexibility and posture of a human being as needed for highest health and fitness. These back exercises once learnt can be easily practiced at home.
The concept of 'Langot',
which is a long piece of cloth worn around your nabhi or navel which is the center of energy and strength in the body and plays an important role in protecting the spine and pelvis.
The different kinds of 'Thailam',
which are the concoctions and oil medicines as prepared using specific combinations of herbal elements to keep the organs, muscles and bones healthy from inside.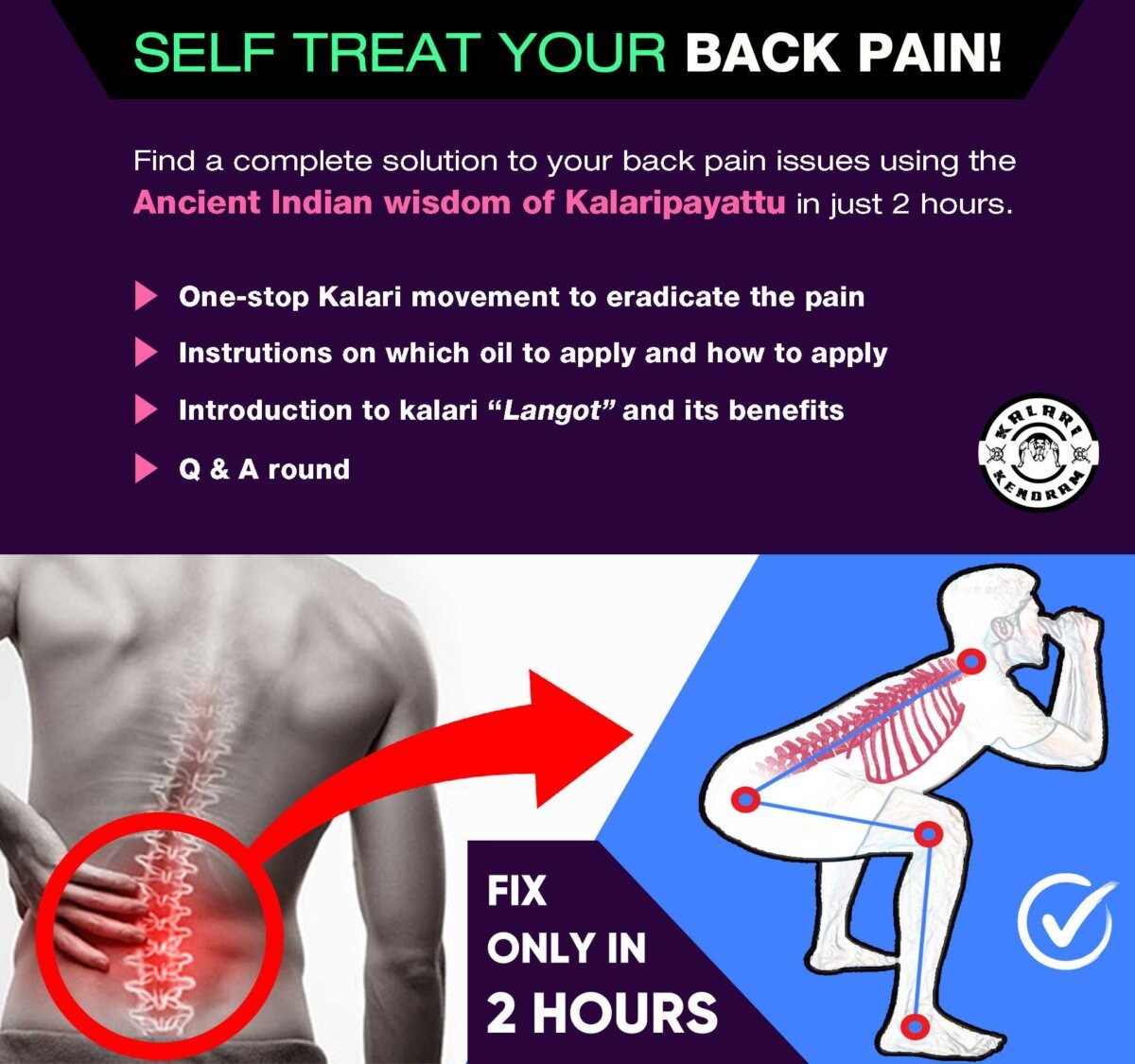 What causes Back Pain and how Kalaripayattu helps in eliminating this?
Back pain is not always due to a deficiency but there are various other minor causes that go unnoticed and lead to a severe issue .
Listing a few ,
 prolonged hours of sitting or lying ,

exercising in the wrong posture or using heavy weights ,

over stressing the body with strenuous work and task ,

carrying heavy loaded bag for long durations or

even sleeping in a wrong position might cause the chronic back pain in us.
Kalaripayattu, is an Indian martial art form that builds a healthy body mind and spirit using its martial techniques and movements.

The stage 1 of this art focuses completely on conditioning the body by regulating the blood circulation through the body .

It opens up the clogged channels of bones making it stronger and building strong muscles for its healthy functioning .

Thus , It

is an ancient system of healthy lifestyle as followed by people of India since 1000s of years ago and

these kalari exercises are a treasure box of healthy backbone for life.
KNOW ABOUT OUR GURUKKAL : SHINTO MATHEW
SHINTO MATHEW IS THE FOUNDER OF THE ORGANISATION : KALARI KENDRAM DELHI WHICH IS THE FIRST EVER TRADITIONAL KALARI TEMPLE IN NORTHERN INDIA FUNCTIONING FROM THE CAPITAL CITY OF DELHI (& NCR)
HE HAS DONE HIS TRAINING IN THIS MARTIAL ART UNDER HONOURABLE GURUKKAL , SHRI K.K. VIJAYAN, CALICUT , KERALA FOR 15 YEARS. AND IS A PIONEER IN THE FIELD HAVING TRAINED MORE THAN 5000 STUDENTS UNDER HIM.
MEDICINAL FIELD OF KALARIPAYATTU , KNOWN AS MARMA CHIKITSA IS THE BRANCH OF HEALING THE BODY THROUGH TRADITIONAL AND ANCIENT METHODOLOGY.
GURUKKAL MATHEW PRACTICES THIS AUTHENTIC CHIKITSA AND SPECIALISES IN THE TREATMENTS RELATED TO BONES AND MUSCLES AS WELL AS SPORTS INJURIES.
KALARIPAYATTU AS AN INSTITUTION IS A CREATER OF A TRUE WARRIOR.
To build a warrior the foremost requirement is an indestructible body.
These kalari exercises born out of an animal's way of life are precisely built to make one's body unerringly robust like that of a warrior.
 In this workshop , we will teach you to rectify your chronic back pain issue using these unique set of back exercises and animal movements.
WHO CANNOT TAKE THIS WORKSHOP !!
1. People beyond 70 years of age having low calcium levels in body.
2. People with history of being operated in the HIP JOINT /DISC areas of body.
3.History of surgery from L 1 to L5 can not participate.
4. History of surgery at SACRUM cannot participate.
 

WHO CAN TAKE THIS WORKSHOP

!!
1. History of all or any C AND T columns of spine operation CAN participate.
2. People who have had knee surgeries CAN participate.