Kalaripayattu classes 
ADMISSIONS FOR NEW BATCH FOR ADULT BEGINNERS OPEN in Mayur Vihar Phase 3 branch. starting on 28th October, 23, 9 AM CLICK HERE TO REGISTER
WALK-IN REGISTRATIONS FOR KIDS BEGINNERS ARE OPEN IN MAYUR VIHAR PHASE 3 BRANCH
WALK-IN REGISTRATIONS FOR KIDS & ADULT BEGINNERS ARE OPEN IN THE NOIDA AND CP BRANCHES!
Just send us a message for informing/enquiring about a DEMO CLASS:  Whatsapp us 
Our Branches :
H.A 87, sector 104, NOIDA, UP
21, Bhai Vir Singh Marg, Sector 4, Gole Market, CONNAUGHT PLACE, New Delhi,  110001
B 1226, nr. Honda Show Room, GD Colony, Block B, MAYUR VIHAR PHASE III, Delhi, 110096
Please note: Trial fees are refunded for students who decide to enroll for the regular training batch.
Pre-booking of the trial is mandatory to lock your seat for this upcoming batch – via UPI/ WEBSITE/ BANK TRANSFER/ CASH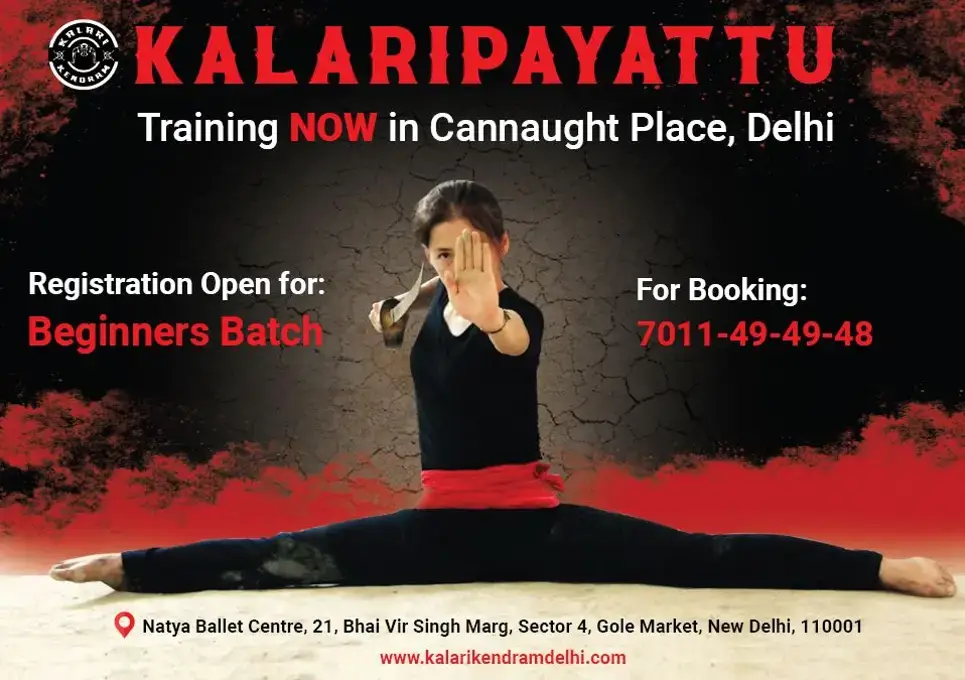 ADMISSIONS OPEN FOR BELOW STATED SLOTS !
CLASSES SCHEDULE FOR NOIDA SEC-104 BRANCH
CLASSES SCHEDULE FOR CONNAUGHT PLACE BRANCH
Slot Name

Status

Age Group

Fee structure

Monthly
Quarterly
Half-yearly
Yearly
Demo Book

6.30 to 7:30 PM

WED-THU

 ADMISSION OPEN

10 above ADULT

₹3500
₹7500
₹13200
₹24000
₹500

6.30 TO 7.30 PM

WED- THU

ADMISSION OPEN

5.5 to14 yrs KIDS

₹2500
₹6600
₹12000
₹21600
₹300
CLASSES SCHEDULE FOR MAYUR VIHAR BRANCH
Kalaripayattu Classes
The first Kalari Temple In North India
KALARI KENDRAM DELHI:-  is a REGD organization devoted to the indigenous warfare art of Kalaripayattu: a martial art native to the southern Indian state of Kerala and is indisputably the foundation of all the Asian martial arts of the world.
As an organization, our vision is to spread this versatile treasure of India and its age-old legacy to a wide audience globally crossing all the barriers of ethnicity, geography, and language.
Kalari Kendram Delhi, Recognised by Indian Council for Culture Relations (ICCR), was established in the year 2008 and is actively working since then towards imparting this singular knowledge of 'Yuddha Kala' to its students from all over the world. Even after being away from its native land, we have kept the founding principles of this tradition at its core.
We are functioning from 2 branches in Delhi NCR of Mayur Vihar Phase 3 & Noida sector 37.
Frequently Asked Questions
Got Questions? We've compiled a list of the questions we get asked the most often.
Bookmark this page for future reference and watch for updates.
Why do we learn Kalaripayattu?
It is practiced to improve overall fitness through disciplined physical and mental training as Kalaripayattu is the ancient warrior tradition, during others because they are interested in our Indian culture or traditional art forms. Some students are initially attracted to the Kalaripayattu body movements described as graceful, powerful, rhythmic, fluid, and grounded. Parents also bring their children to encourage self-discipline, confidence, and a focused mind, Regardless of what brings students to this learning path, they will discover the true depth of this martial art as they pass through the different stages of training.
What are the benefits of Kalaripayattu?
Kalaripayattu movements use the full body; every aspect of physical fitness is developed such as strength, flexibility, coordination, speed, agility, balance, and stamina.

Kalaripayattu is a rich and challenging process that will improve every facet of your life.

It is a unique system that was originally designed to create an expert warrior.

Kalaripayattu creates extreme body control, which develops from patience, disciplined training, and focused awareness.

With the practice of Kalaripayattu, you learn to still the mind and achieve Ekagrata (single-pointed focus). Confidence and alertness allow you to confidently face any situation in life
Who learns Kalaripayattu?
Everyone is welcome to learn Kalaripayattu at Kalari Kendram Delhi. Our students are Dancers, fitness enthusiasts, adults, children, families, yoga practitioners, martial artists, health professionals, office workers, etc.
What's involved in the Kalaripayattu training?
We work on developing the body and mind through powerful flowing practice. Each class is almost one and a half hours long, and depending on the stage you are at can include: Warm-up, kicks, postures, footwork patterns, stances, jumps, and leaps, leg swings, dynamic movement sequences, weapons training, advanced techniques; Classes take place in a space where an atmosphere for serious training can be maintained. Students are expected to keep focused and attentive at every moment. There are four extensive stages of training in Kalaripayattu, each building on the skills developed previously.
Meithari – Body preparation training

Kolthari – Wooden weapons training

Angathari – Metal weapons training

Verumkai – Empty hand techniques
Is it recommended for girls as well?
Yes, this martial art is fit for both girls as well as boys of all ages. You will be trained according to your individual fitness level irrespective of what gender you belong to.
Can I change my session timings according to my schedule?
No, you will have to accommodate according to the schedule of the institute and follow the batch that has been allotted to you to avoid any confusion or mismanagement.
Can I directly learn to use Weapons?
No, you will have to follow the stages of Kalari in a proper chronological order because it takes a certain level of Kalari training attained before you learn the weapons in their most authentic manner. Neither do we recommend nor do we teach any of the weapons before the completion of the stages prior to it.
I am overweighed and I am not into any other fitness activity can I still join this?
Yes, you can. We take it very slow for beginners and once your body is ready to adapt you can easily increase your pace with the training.  Prior physical fitness is not a requirement as such before you start this, you can gain your fitness levels here with Kalari gradually.
Do I need to wait for the new term to begin before I join?
Classes are ongoing so you can join anytime during the term.
Are your classes taught by levels?
Classes are open to students of all ages and abilities. Everyone practices together – children, adults, beginners, and advanced, as this is the way of practice in the traditional Kalaris.
What are the fees?
Please download the fee structure from the site. All details are available there.
for an offline fee:- https://kalarikendramdelhi.com/kalaripayattu/
for an online fee:- https://kalarikendramdelhi.com/class/kalaripayattu-online/
What all treatments do you do in Kalari chikitsa?
In Kalari, there is a  full-fledged treatment for all types of sports injuries, muscular pains and pulls, and various other joint disorders.
For a detailed explanation, please follow the link :
Do you also have online classes for Kalaripayattu?
Yes, We do have Online classes, Please refer to this link:- https://kalarikendramdelhi.com/class/kalaripayattu-online/
What is the usual duration of the class?
Each session lasts for 1 to 1.5 hours.
How much time does it take to learn Kalaripayattu?
As there are four stages, it takes time to get a hold of each advancing stage. Usually, each stage takes 15 months approximately, depending on the practitioner's fitness level as well as his/her attendance in the classes
What are the minimum and maximum ages for training?
We teach students from six years old. There is no age limit. You are welcome to come and observe a class first to see if it's for you.
Do I need to be fit or flexible to start classes?
No, you don't as Kalaripayattu will make you fit, flexible, and much more. It's a step-by-step process starting with simple movements, and gradually progressing to ones that are more challenging. Kalaripayattu develops many skills, and you may find some easier than others. Someone who is flexible may struggle with balance. Someone who is strong may struggle with speed. You will come to master your own body as you advance through the system
How many branches do you have?
As of now, we are functioning actively in two branches-
Mayur vihar phase 3
Noida sector 104
Connaught place
What are the medical conditions that restrict me from learning Kalaripayattu?
You must avoid it if you have a severe breathing disability or are clinically asthmatic, have high cholesterol, or in case of any fractured bone in the body.
What is the difference between Kalaripayattu and other martial arts?
link to be added
For more queries:- Visit Kalari during the given class timings only,