K K Vijayan Gurukkal
K K Vijayan , a celebrated Gurukkal (master) in the field of Kalaripayattu , the ancient martial art of India has devoted 38 years of his life to this distinctive form of discipline by starting at the age of 5.  Being well versed in the Vadakkan style of Kalaripayattu , Mr. Vijayan has taught a large number of students till date. He is a certified healthcare provider for "Traditional Bone settling" under the University of Trans-disciplinary Health Science and Technology (TDU).
He has created an unbeatable record by continuously winning all the Kalaripayattu championships held in Kerala from 1990 to 2001 and has been honoured with the award of "Father of Velingotri" by the Sports Council of India in the year 2009 as well.
Currently, there are several renowned Kalari academies running successfully under his leadership and guidance in the states of Kerala, Uttar Pradesh and Delhi by the name of Kalari Kendram.
And. since last 16 years he is running his own Kalari Chikitsalayam in Karaparamba , Kerala where he immaculately performs medicinal treatments related to sports injuries and orthopaedic irregularities and diseases.
Gurukkal Vijayan has participated in various national and International stage shows with his other partners that includes China , Italy , Germany , Hungary , Belgium ,Netherlands , Srilanka , Indonesia ,Egypt and UAE and many more. His latest feather in the cap has been to represent India In World Martial Arts Festival in Indonesia some time ago.
He aspires to spread all his attained wisdom to the future generations so as to revive Kalaripayattu and take it back to its glory.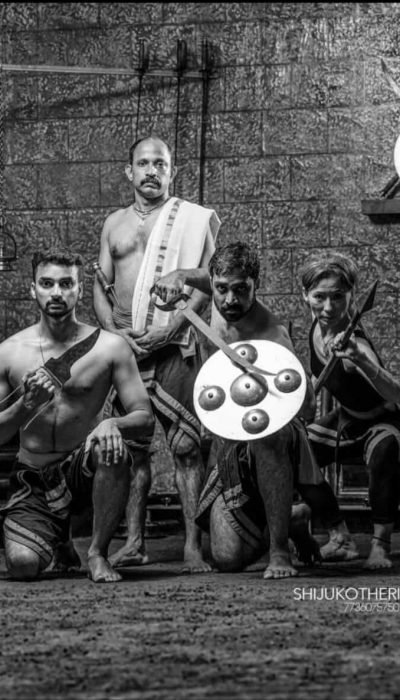 KK Vijayan Gurukkal
call now @ +91 9895454355
Slot Name

Status

Age Group

Fee structure

Monthly
Admission fee
Half yearly
Yearly
Demo Book

6.30 to 8:30 AM

MON to SAT(Morning)

 ADMISSION OPEN

5.5 to any age

₹1000

₹500

₹5000
₹10000
free

5.00 TO 9.00 PM

MON to FRI (Evening)

ADMISSION OPEN

5.5 to any age

₹1000

₹500
₹5000
₹10000
free