KALARIPAYATTU SUMMER CAMP FOR 10 DAYS FOR KIDS
KALARIPAYATTU is not only an art form that belongs to India, but it is an institution that connects one to the roots and cultural heritage of India. Kalaripayattu summer camp is focussed to  give an opportunity to kids to experience the same.  This art of battlefield that still stands today to spread its grandeur is a creation of the Warrior God, Parashurama who was born 1000s of years ago in India.
The training in this regime is ideal for the kids as it follows a holistic approach towards a healthy  development of mind, body, and soul. Every movement under this versatile activity from warm-ups to combat is derived directly from nature by observing the animals in their wilderness. Hence, this art connects a student to their ancestral way of life as well as awareness of their own body and its anatomy.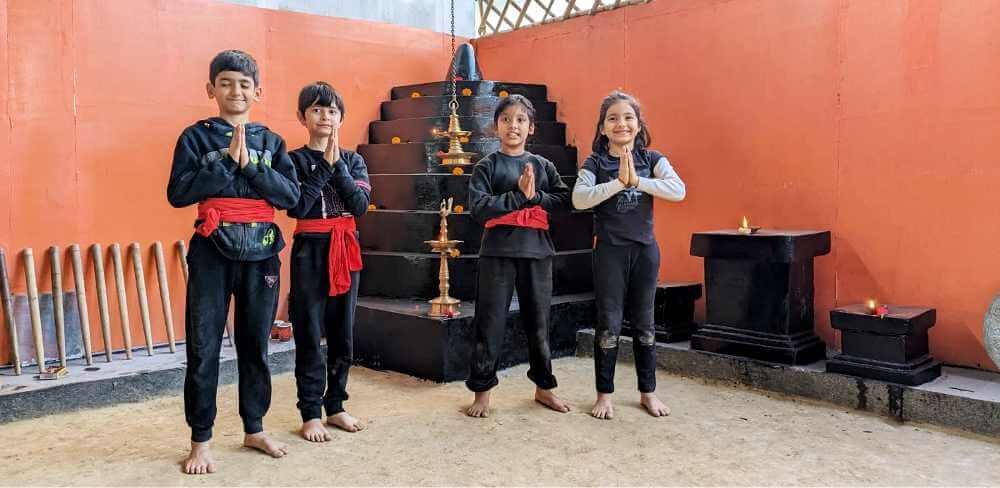 KALARIPAYATTU SUMMER CAMP DETAILS:
10 days workshop in the authentic Kalaripayattu temple

2 hours each day – 9:00 AM TO 11:00 AM

Age Group: 7 years to 13 years

Dates: 2nd June,23 to 11th june,23

For the syllabus, check below.

Kalaripayattu uniform will be provided by us: Authentic black Kalaripayattu dhoti + kalari kaccha (waist cloth)

The workshop will also include an age old methodology of body healing, ie, Kalari marma massage shall also be given to kids for their internal organs health. (OPTIONAL)

Healthy refreshments will be provided after each session.

Cost of program:  10500/- INR

LIMITED SEATS: 21 (first come first serve basis)

Presentation on the last day of the workshop for Parents and family.

Address: H.A 87, Sector 104, Noida, UP
BENEFITS OF KALARIPAYATTU SUMMER CAMP FOR KIDS:
Unparalleled strength, agility & flexibility in a short span.

Knowledge about nature's way of life

Puts the energy levels to exact equilibrium (too high to lower, too low to higher)

The most unique lesson will be the lesson of mind and body 'sthirata' (stability)

The correct intensity of martial movements leads to a balanced physical and mental development

Community building and Improved social skills.

Optimum physical activity and their medicinal background lead to exposing and rectifying all or any mental or physical issues.

Needless to say, the enhanced cognitive skills which will be evident in the long run.
SYLLABUS FOR KALARIPAYATTU SUMMER CAMP FOR KIDS
Kalari Animal postures and movements of GAJA, SIMHA, ASHWA : For whole body transformation along with theoretical knowledge about each. 

Various Important Kalari Leg Raises: for building lower body balance as well as brain and body coordination 

Flexibility exercises of Kalari

High jumps and gymnastic movements of Kalari

Storytelling about ancestors and legends of Kalaripayattu

Kalari-related group activities
Please note: The syllabus covered in this workshop is equivalent to 6 months of regular classes
IMPORTANT INSTRUCTIONS FOR KALARIPAYATTU SUMMER CAMP FOR KIDS:
Day 1 will start with an ORIENTATION PROGRAM of 10 minutes so we request all parents to be present on the first day positively. 

We would request all parents to wait outside of the Kalari arena during workshop. 

All kids have to come in plain black upper wear and a dhoti set will be provided by us

Kendram trainers will also conduct a dhoti wearing session , where all kids will be taught to wear dhoti themselves for subsequent sessions.

The workshop will start at exact 9 am, Reporting time is 8:50 AM

For all kinds of queries please contact on:  +91 7011494948
ABOUT KALARI KENDRAM DELHI:
KALARI KENDRAM DELHI , founded by Gurukkal Shinto Mathew, is an organisation devoted to the indigenous warfare art of Kalaripayattu: a martial art native to southern Indian state of Kerala and is indisputably the foundation of all the Asian martial arts of the world.
As an organization, our vision is to spread this versatile treasure of India and its age -old legacy to the wide audience globally crossing all the barriers of ethnicity, geography and language.
Kalari Kendram Delhi ,Recognized by Indian Council for Culture Relations (ICCR) ,was established in the year 2008 and is actively working since then towards imparting this singular knowledge of 'Yuddha Kala' to its students from all over the world. Even after being away from its native land we have kept the founding principles of this tradition at its core.
The authentic Gurukulam is functioning from 3 branches in Delhi ncr of Mayur Vihar Phase 3 , Gole Market CP and Noida sector 104 and has built an Online students community of more than 200 students as well.