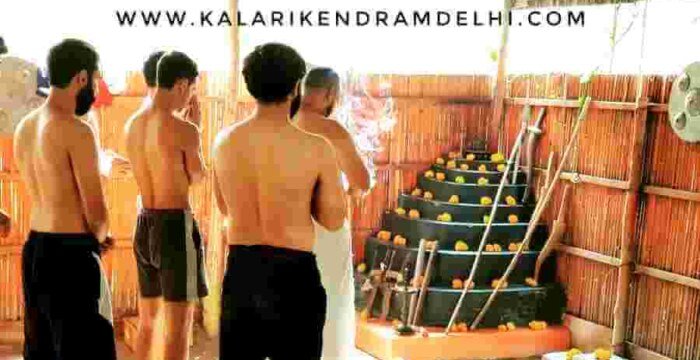 Who are we?
Kalari Kendram is dedicated to teaching Kalaripayattu, an ancient martial arts form from Kerala, southern India, which stands at the foundation of all martial arts traditions. To introduce this age-old legacy to a wider audience, Kalari Kendram with a Kalaripayattu temple was established in 2008 in the National Capital Region (NCR) Delhi with the aim to impart training while keeping the founding principles of this tradition at its core.
Recognized by the Indian Council for Culture Relations (ICCR), at Kalari Kendram we believe Kalaripayattu is not only about training the body but also the mind, it is not only a martial arts practice but also about inculcating a disciplined state of mind and,is, therefore, a way of life.
Apart from the traditional martial arts training of Kalaripayattu, Kalari Kendram also offers Kalaripayattu-based action choreography, customized classes for dancers, Yoga experts and athletes who want to explore the diverse dimensions of this martial arts form vis-à-vis their own practice.
For those who cannot be in Delhi for a long, continuous period of time, Kalari Kendram also creates short-term training plans based on individual or group requirements. Outstation students – Indian as well as International – who demonstrate body preparedness or have prior exposure to other martial arts are welcome.
For more details click here
Over these years Kalari Kendram has also made a distinct mark in the field of performing arts by applying the fluid movement based principles of Kalaripayattu. With several stage shows around the world, we have also successfully represented at the 2016 World Martial Arts Festival held in Purwakarta, Indonesia.
Kalari Kendram takes pride in having made several significant achievements since it's inception, some of these are:
Represented India at World Martial Arts Festival held on 31st March 2016 in Purwakarta, Indonesia
Participated in India-Japan Sports Exchange Program held on 16th December 2017 in New Delhi, India
Participated in Aswan International Festival for Arts and Culture 2017 from 14th to 25th February 2017 in Egypt
Associated with 'Yoga Parva' celebrating the 4thInternational Day of Yoga from 21-24 June 2018 in New Delhi, India
Historical Background of Kalaripayattu
The term Kalaripayattu is primarily derived from the words "Kalari," which refers to the training space where the practice takes place and "Payattu" the means of practicing. With its deep roots in the social and cultural life of Kerala, this form of martial arts at one time was considered to be a lifestyle for several people. The mention of this form in the Vedas clearly proves its existence for over 3000 years. Within the Vedas, the primary roots of this martial arts form belong to Dhanurveda, also known as the Indian Science of Warfare. An ancient Indian martial arts form that aims at developing the body and the mind through a series of powerful, flowing movements,Kalaripayattu was primarily developed to counter wildlife. Many of its postures and movements are said to be inspired by the movements and stances of animals such as Lion, Elephant, Wild Boar, Snake, etc.
Afraid that the knowledge of such a practice can cause a rebellion they would be unable to contain, the British banned the practice of Kalaripayattu. This period saw a decline as anyone found to be practicing or teaching Kalaripayattu could be persecuted. Despite these restrictions, an attempt to preserve this ancient art continued and was safeguarded by a few dedicated Masters and practiced in secrecy. As a result, it remained alive and was later resurrected after 1947. With strong principles at its foundation, Kalaripayattu then continued to benefit the subsequent generations and now, slowly, is experiencing its moment of revival.
The relevance of Kalaripayattu Today
While traditionally practiced by warriors, over the years, numerous people have been reaping benefits, which include but are not restricted to improving the balance and flexibility of both body and mind. Along with speed and agility, the training of Kalaripayattu also improves awareness of and coordination between the various parts of the body. Further, Kalaripayattu nowadays is not only viewed purely as a martial arts form but also draws practitioners of other movement-based expressions such as dance and theatre who seek inspiration from it and apply it to their artistic practice.
With its emphasis on holistic development, the training of Kalaripayattu from as early as 6-7 years of age can inculcate discipline and make children focus better. Parents interested in exploring martial arts for their children must definitely consider Kalaripayattu as it has the potential to lead to the child's overall development. By way of step by step process students, both children as well adults learn to achieve expertise in new kinds of movements and techniques and with time, the higher level of perfection within each of these.
Since Kalaripayattu training involves rigor and consistent efforts, it instills the importance of discipline in the practitioner. Apart from enhancing flexibility and improving strength, regular practice improves concentration and can also be instrumental in reducing stress, anxiety, and tension.
 Kalari Ayurveda
Ayurveda – Ayur (life) Veda (knowledge) is a vast and diversified body of knowledge that includes a set of practices – use of herbal powders and pastes, special diet, and kalari massage – to ensure harmony within the body. As per Ayurveda, the body is viewed as a universe in itself and all the elements that constitute it are viewed as inseparable. Here, the elements of earth, water, fire, wind, and ether interact to create the microcosm of the universe that is the human body.
Kalari Ayurveda is a branch of knowledge derived from Ayurveda and especially focuses on the study of vital points (marma) in the body. Traditionally, all advanced students of Kalaripayattu were imparted knowledge of the several marma points – muscular, vascular, ligamental, bone-related, and joint-related, etc. Using therapeutic massages, Kalari Ayurveda can heal and rehabilitate injuries related to these vital points.
Beyond just the Martial Art
The purpose of the practice of Kalaripayattu was to train warriors while inculcating other skills that make them a good human being. After all, who would not appreciate an individual who respects his teachers and parents, contributes with his goodness to the society, a person who does not harm anyone and one who also knows how to survive a real attack!
Apart from its primary focus of establishing coordination between the mind and body, there is also an emphasis on understanding the functioning of the body by focusing on the several medicinal and therapeutic practices that are integral to the training of Kalaripayattu.
At Kalari Kendram, we are dedicated to offering equal opportunities to our students so that they can grow through constant learning. Irrespective of their level – beginner or advanced, our students are trained together. This leads to learning from one's peers and also motivates them to progress at a faster pace with effective results.
Our Mission Statement
Our mission at Kalari Kendram is to preserve the foundational principles of Kalaripayattu and introduce and train sincere individuals in the practice of this martial arts form.