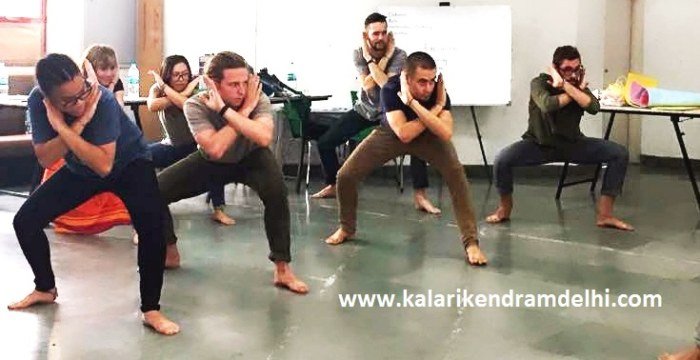 Kalaripayattu  – 1st ever martial art online classes
As we all are aware, with the unforeseen spread of the novel corona virus the world is moving towards a virtual life.Everyone is fighting the stress, anxiety, negativity, and lethargy that has come with it in their own ways. And hence,Kalari Kendram Delhi has decided to start their first-ever ONLINE BATCH of Kalaripayattu martial art training. Kalari is actually, one of the most effective and scientific form of fitness workout if followed in its authentic character. It is a complete package of flexbility ,strength, weight loss. and  peace of mind, it not only transforms your body but also rejuvenates you mentally and spiritually.
Even though teaching this martial art in an online mode isn't ideal ,but due to this pandemic emergency, we have decided to go the extra mile and formulate a plan that's effectively beneficial and is specific to the online training only.
It is important to state that this syllabus is a result of a thorough discussion with the learned and experienced trainers of this organisation who have given their whole life to learning this art.
Why should you learn kalaripayattu online?
Out of all the workout regimes, kalari is one of the most needed yet underrated form with respect to today's scenario. Along with being a distinctive ancient martial art form it is actually a very fulfilling intense workout routine that can now be learnt online while staying at home.
Also,since the teachers of this ancient art are not many and limited to specific regions , it is a great opportunity to get to learn this unique art by a reputed organisation , from any part of the world globally.
It is indisputably, the finest form of workout and a martial art with a rare blend of MEDITATION + MOVEMENT.
what are the benfits of practicing kalari ?
Relaxation of mind and works against anxiety and stress issues
Astounding body weight loss
Increase in stamina, endurance, and flexibility of the body
Proper functioning of all the organs
Improved concentration
And most importantly, it promotes awareness about the connectedness of the body mind and soul.
The spiritual benefits are as prominent as physical.
As much as it is physically instrumental and beneficial for the body it is also unique in its content and extremely engaging,and that's what sets kalari apart . This ancient art is one of the most interesting and consistent form to learn.
Why should you choose Kalari Kendram Delhi?
This organisation is the first-ever Kalari temple that's successfully running in the Indian capital state of Delhi and has established itself as one of the most passionate and original school of Kalari in just 10 years with the paramount hard work.
We as an organization, have been diligently training students from all walks of life and ages and our motto is to create awareness about this unexplored cultural treasure of India as well as spread the distinctive physical and mental benefits of this form of warfare!
If you want to be fit and are curious enough to learn this authentic and one of a kind form of martial art while staying at home then this is exactly for you.
PRICING PLANS
3000*1=3000
KALARIPAYATTU ONLINE
Non-refundable
Non-transferable
Single Month
Minimum Age 6 Yrs
2400*3=7200
KALARIPAYATTU ONLINE
Non-refundable
Non-transferable
For 3 consecutive months.
Minimum Age 6 Yrs
2200*6=13200
KALARIPAYATTU ONLINE
Non-refundable
Non-transferable
For 6 consecutive months.
Minimum Age 6 Yrs
2000*12= 24000
KALARIPAYATTU ONLINE
Non-refundable
Non-transferable
For 12 consecutive months.
Minimum Age 6 Yrs
Registration Guidelines
REGISTRATION Details :
New batch for Beginners :  Adults
Days: Saturdays & Sundays
Time:  8AM IST
Starting May onwards 
Registration is open currently.
New batch for Beginners – Kids
Days : Saturdays & Sundays
Time : 8AM IST
Registration is open currently.
Important note for all International students:  We are taking the payments through PayPal and Direct Bank transfers ONLY.
Come along and join this great class at KALARI KENDRAM!
General guidelines for ONLINE STUDENTS
Keep your screens on MUTE at the beginning of each session as you enter the meeting room.
Please attend the classes in comfortable stretchable workout clothes mandatorily.
Be ready 5 minutes before the session starts. Please maintain proper discipline and respect for everyone's time.
Set your camera at a reasonable distance where your whole body (head to feet) is visible and you have enough space for small movements.
Please cooperate with the teacher in the session by showing patience and avoiding unnecessary disturbances to others and the class as a whole.
There will be a time allotted for all your doubts and queries, in each class itself.
Eat well (at least 1 hour before the class to avoid any weakness and stay hydrated properly.
Your enrollment will stand approved only after the receipt of completely filled form and fees.
thank you
FAQ for Online batch students
How effective is it going to be to attend the online classes?
Kalari Kendram Delhi strives for excellence in teaching this art as well as delivering the results. We have charted out a carefully constructed effective curriculum and syllabus specific to online tutorials with years of experience. So, we are putting in our best efforts to do the same even during the times of a pandemic.
Can I change my batch or batch timings?
No, you cannot. It is recommended that once you're allotted the batch, you must continue in that same batch for the rest of your sessions to avoid confusion or any disturbance.
Can I join these classes anytime throughout the year?
Yes , the registration will be open throughout the year
Can I get a refund of my paid fees ?
No, after its submission, the fees will be non-refundable and non-transferable.
What is the medium of language used?
Since the classes are open universally therefore, the sessions will consist of communication done in HINDI, ENGLISH, and MALAYALAM for everyone's ease.
How many batches are running currently?
As of now, we are conducting the weekend batches(Saturdays and Sundays) only keeping in mind the comfort of people of all the diverse genres.
Who learns Kalaripayattu at Kalari Kendram Delhi's ONLINE class?
Everyone is welcome to learn Kalaripayattu at Kalari Kendram Delhi, India.
People from all the places and countries are welcome to online classes and sessions.
What will be taught to us in the class?
The classes will be taken from the extreme basics to higher levels of Kalari for a complete understanding of the student. The "beginners batch" will consist of the 1st stage of Kalari- Meithari, which involves Kaals (leg raises and kicks), Kalari exercises and stretches, vadivus (animal postures and application), etc.
what is the registration procedure for enrolling in the class?
Yes, you have to get enrolled to be a part of these Online batch classes. 2- step process :
1. You have to fill up the ONLINE CLASS REGISTRATION FORM completely, that's available on this official site.
2. submit the fees.
Please note: registration will be approved only after both the steps are completed.
How is the allotment of batches done?
Allotment of batches will be completely in the hands of the organization. After your registration is completed and approved you'll be allotted your batch /days/timings according to the pre-decided order for the convenience.
How can I take my queries and doubts regarding the session?
It is a properly planned out training session with small interactive sessions in between and all the doubts will be taken full-fledged during the class itself.
What is the duration of each class?
Each session will be of 60 minutes approximately.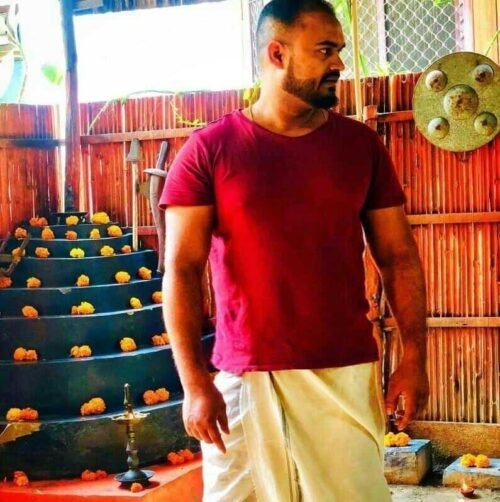 Mr. Mathew is the Kalaripayattu Master and Founder of the Kalari Kendram, the first Kalaripayattu temple in Northern India functioning in Delhi-NCR.