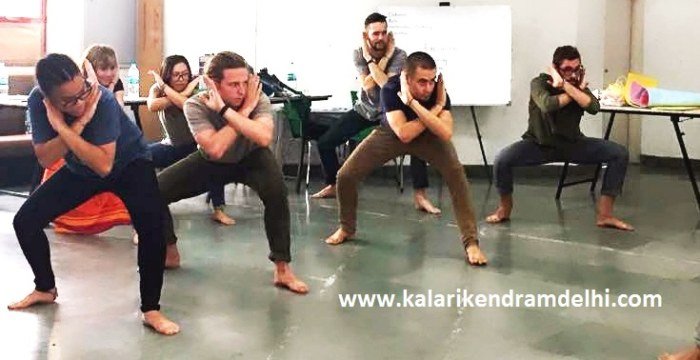 ONLINE CLASS for 1st ever martial art,Kalaripayattu
Martial arts is not just a way to self defense but a complete way of life . Kalaripayattu Online classes with Kalari Kendram  has opened up the possibility to attain that unapparelled fitness towards a healthy way of life for everyone and anyone sitting in any corner of the world.
Kalari , being a highly effective form of physical culture , follows an ancient wisdom of science of  life as formulated by our fore ancestors. Unfortunately , this art form is losing its glory due to its limited availability, reachability and various other barriers . Hence,  we as an organization have decided to go the extra mile with the sole purpose to expand the teachings and tremendous medicinal benefits of Kalari globally.
Keeping the vision in mind a team of learned teachers of kalari have formulated an educative plan that's effectively beneficial and is specific to the online training that reaps the maximum benefits. We have been conducting online classes , workshops and seminars for 2 years now and have students from all over the world , like USA , Canada , Sweden , UK , Singapore , Australia , Seychelles , India and many more making us a big family of more than 300 practitioners of this art under Gurukkal Shinto Mathew .
PRICING PLANS
Important note for all International students:  We are taking the payments through PayPal and Direct Bank transfers ONLY.
Come along and join this great class at KALARI KENDRAM!
FAQ for Online batch students
What is the right age to do kalari?
you can start kalari at a minimum age of 6 years and maximum there is no limit. Start any time
How effective is it going to be to attend the online classes?
Kalari Kendram Delhi strives for excellence in teaching this art as well as delivering the results. We have charted out a carefully constructed effective curriculum and syllabus specific to online tutorials with years of experience. So, we are putting in our best efforts to do the same even during the times of a pandemic.
Who learns Kalaripayattu at Kalari Kendram Delhi's ONLINE class?
Everyone is welcome to learn Kalaripayattu at Kalari Kendram Delhi, India.
People from all the places and countries are welcome to online classes and sessions.
Can I join these classes anytime throughout the year?
Yes , the registration will be open throughout the year
Can I get a refund of my paid fees ?
No, after its submission, the fees will be non-refundable and non-transferable.
What is the medium of language used?
Since the classes are open universally therefore, the sessions will consist of communication done in HINDI, ENGLISH, and MALAYALAM for everyone's ease.
How many batches are running currently?
As of now, we are conducting the weekend batches(Saturdays and Sundays) only keeping in mind the comfort of people of all the diverse genres.
Will these classes continue even after pandemic
Yes, the online classes will be running permanently , irrespective of the pandemic
What will be taught to us in the class?
The classes will be taken from the extreme basics to higher levels of Kalari for a complete understanding of the student. The "beginners batch" will consist of the 1st stage of Kalari- Meithari, which involves Kaals (leg raises and kicks), Kalari exercises and stretches, vadivus (animal postures and application), etc.
what is the registration procedure for enrolling in the class?
Yes, you have to get enrolled to be a part of these Online batch classes. 2- step process :
1. You have to fill up the ONLINE CLASS REGISTRATION FORM completely, that's available on this official site.
2. submit the fees.
Please note: registration will be approved only after both the steps are completed.
Can I change my batch or batch timings?
No, you cannot. It is recommended that once you're allotted the batch, you must continue in that same batch for the rest of your sessions to avoid confusion or any disturbance.
How is the allotment of batches done?
Allotment of batches will be completely in the hands of the organization. After your registration is completed and approved you'll be allotted your batch /days/timings according to the pre-decided order for the convenience.
How can I take my queries and doubts regarding the session?
It is a properly planned out training session with small interactive sessions in between and all the doubts will be taken full-fledged during the class itself.
What is the duration of each class?
Each session will be of 60 minutes approximately.