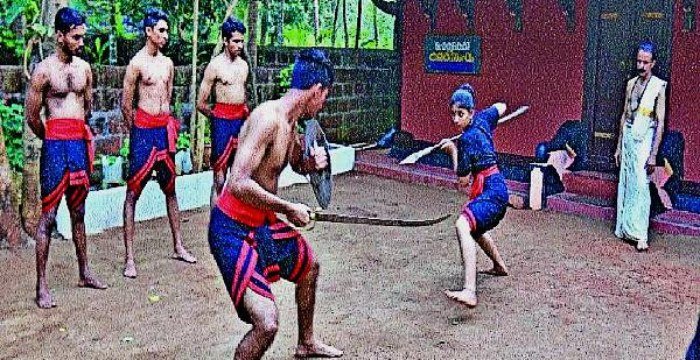 Kalaripayattu Choreography for Television and Films
Consultation and Training in Combat Choreography by Kalari Kendram
Cinema and television have come a long way since its inception. Whether it is a period drama in a historical setting or a film based on martial arts set in contemporary times, it is not uncommon nowadays for studios to feature professional combat specialists in action films and television shows. This evolution has been particularly visible in the last decade where both film- and television-makers have begun to perceive and appreciate the importance of authentic fight choreography. This not only renders authenticity to the scene and setting but also creates better overall production value for the project.
Under the expert guidance of Gurukkal Shinto Mathew, Kalari Kendram offers authentic Kalaripayattu choreography training and consultation for television and cinema. With over fifteen years of expertise, Gurukkal Shinto Mathew comes with a deep understanding and knowledge ofKalaripayattuin particularly as well as combat sciences in general. Being a dedicated practitioner himself, his expertise lies in using accurate principles of Kalaripayattu to design and construct fight sequences. Because films and television today have a much wider reach than before, this offering from Kalari Kendram also ties-in with our larger vision to bring more awareness about Kalaripayattu to people in India and worldwide.
Through the accurate representation of this martial art form, our aim is to enhance the way Kalaripayattu is represented while enhancing the production value of action-based projects. We are open to choreography consultations for television, cinema, and advertisements. Our recent projects include
Farfetch, the UK based online luxury fashion company;
KambalabettuBhatrenaMagal, a Tulu film;
Jasoos Vijay, a detective mystery TV series produced by BBC World Service Trust in collaboration with Doordarshan and National AIDS Control Organisation.
We offer consultation in designing both armed and unarmed fight choreography and specialize in-
Designing fight sequences that employ martial arts
The choreography of scenes depicting ancient warfare and weaponry
Urban combat techniques
Choreography is also available for one or a combination of the below-mentioned techniques and can be customized to cater to specific requirements of the project –
Stick fighting
Knife fighting & edged weapon choreography
Sword fighting sequences of Kalaripayattu
Dagger fighting sequences of Kalaripayattu
Kalari Locks and Throws