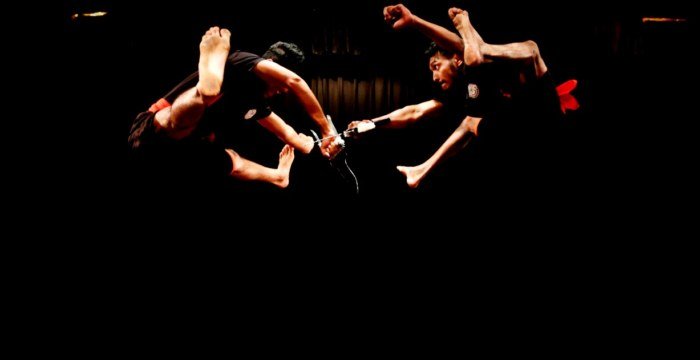 Martial art Show-Kalaripayattu

Stage Show
Kalaripayattu is a traditional Indian martial art form that combines elements of combat with weaponry. In Kalari, the use of naturally flowing body movements and postures along with various martial techniques, skills, and sequences is used in the fight against an opponent and that is exactly what we reflect in our kalari martial art show.
About the demonstration team :
Kalari Kendram Delhi's stage show is demonstrated by a strong team of hard-working artists, who have given their complete integrity to the teachings of this ancient art and are joined together by the common passion for Kalaripayattu martial art.
We have been successfully demonstrating our indigenous art through scintillating and jaw-dropping kalari stage shows all over the world in various cultural, corporate, and sports events, leaving an indelible mark of our country at an international level.
It is important to state that, Kalari Kendram is known to deliver Kalaripayattu in its "martial art shows and events" in the most authentic taste and manner due to the deep and thorough training under the best gurus of this ancient art who have kept this treasure of India intact with their monumental efforts and zeal to spread this martial art worldwide.
So far, Kalari Kendram has participated in and performed at several events of national and international significance. Some of them are listed below:
Represented India at World Martial Arts Festival held on 31st March 2016 in Purwakarta, Indonesia
Participated in India-Japan Sports Exchange Program held on 16th December 2017 in New Delhi, India
Presentation -cum- workshop @ Indian cultural center in South Korea held on 1st of August 2016
Participated in Aswan International Festival for Arts and Culture 2017 from 14th to 25th February 2017 in Egypt
Associated with 'Yoga Parva' celebrating the 4th International Day of Yoga from 21-24 June 2018 in New Delhi, India
Onam festival celebration, Houston, America
We are open to performing at cultural events, corporate events, private parties, and at a martial arts festival
 Reasons- why you should consider Kalari Kendram's martial art show for your next event:
Traditional practitioners bring an authentic taste of Kalaripayattu to your event
Ancient martial art form combines bare-hand combat techniques and the use of weaponry
A rare form of art to be witnessed in the events
100 percent engagement of the audience with their exceptional skills.
Unique in its appeal and well suited for cultural festivals, corporate events, private parties, and martial arts festivals
Based in the central part of the country, i.e.,  Delhi NCR, and available to perform at events worldwide
It is a great opportunity to revisit the real India and it's one of the most treasured traditional art in its most authentic form.